Wholesale Orders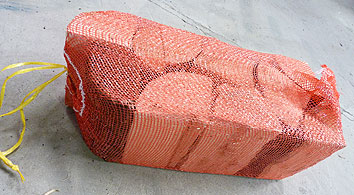 We source, dry (season) and net logs and kindling ready for wholesale order and delivery. Dry Kindling sticks are very dry sticks used to assist in the lighting of open fires, stoves, and barbecues. The wood we use for Kindling is softwood. Dried using our kiln or air blowers.
Pallet Loads: There are 105 nets of dry, ready-to-use kindling on every pallet. Pallets can be delivered locally (on a tipper truck) every Friday or nationwide (by courier). There will be an additional charge.
Please state if you require a forklift or a tail lift,
For the larger orders, we use a local haulage company that can delegate a complete artic, Curtain sider or container to go anywhere in the UK.
These vehicles usually have a tail lift for ease of delivery. When you ask for a quote we will let you know the haulage price from our price guide map. For the large lorry loads, we can do a discount on goods purchased.
We have regular orders from popular garden centres, shops and garages from Devon to the north!